Submitted by Allana from Leonardtown!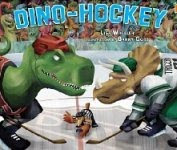 Dino-Hockey by Lisa Wheeler, illustrated by Barry Gott, is a picture book told in rhyme about one of my all-time favorite subjects–Ice Hockey. The book is illustrated with wonderful and amusing artwork. In this fixture, it's the "Meat-Eaters" versus "Veggiesaurs," and as they take the ice, and the puck is dropped, a hilarious contest ensues. With passing, checking, slashing, shooting, and penalties, the writer shows her knowledge of the sport, as well as genuine dinosaur names. Would you believe the referee is a Dodo? Well, I've seen some refs act like Dodos before, but we won't go there! T-Rex scores first, with Raptor picking up the assist, as the "Meaties" take the lead. I get annoyed when someone gives away the final score of a game I haven't yet watched, so I won't spoil the ending here. This is an entertaining and unique children's book for sports fans and Dino enthusiasts alike.
Also check out
Z is for for Zamboni: A Hockey Alphabet
by Matt Napier, illustrated by Melanie Rose. Starting with "A is for Arena," and continuing through the whole alphabet with Ice Hockey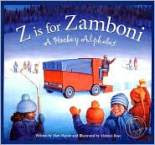 terms, equipment, positions, and names of famous players, this is another picture book dear to my heart. The prose is in rhyme, and cleverly done. The illustrations are top notch and very realistic. This is my favorite alphabet book–different and informative where the sport of hockey is concerned.