Submitted by Allana from Leonardtown!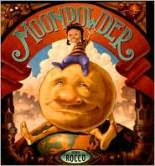 Moonpowder by John Rocco. Eli Treebuckle likes to fix things, and as we quickly find out he also fancies himself an inventor. He has just fixed the radio, and is listening to it when his mother tells him it's time for bed. "Sweet dreams" she tells him, however, Eli hasn't had "sweet" dreams for months. His dreams are more like nightmares. Mr. Moon pays him a visit that night and takes him on a strange and wonderful adventure to the Moonpowder factory. Mr Moon tells Eli that moonpowder is a "magical marvel, a masterful miracle, a mystical masterpiece……"
Moonpowder, it turns out, is the essence that makes sweet dreams. So, Mr. Moon flies Eli off to the factory where his fixing services are required, and he flies him in a life size helio-rocket copter, the very thing that Eli himself has designed and is in the process of building! While at the factory, Eli has a nightmarish episode inside Mother Nature's closet. This is a beautifully written and illustrated story with shades of Roald Dahl.