Submitted by Catherine from Charlotte Hall!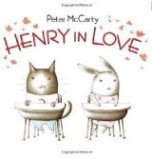 Your first love is something that you always remember. For some it's a whirlwind romance, but for others, it's as simple as a blueberry muffin. In
Henry in Love
by Peter McCarty, love is as simple as can be. Henry is a young kitten, who thinks that Chloe the rabbit is just the loveliest girl in school. After all, she can run fast, turn cartwheels, and her long white ears flop over in a delightfully sweet way. Who wouldn't be smitten? McCarty perfectly captures that feel of puppy… kitten and rabbit… love where everything is simple and sweet. His illustrations, while light and simple, add a touch of humour that brings much to the story. This is a sweet and lovely story that will make you want to smile, and eat a blueberry muffin.
See this book listed in our catalog