Submitted by Allana from Leonardtown!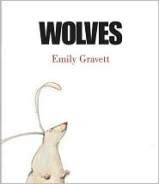 So, what do wolves really prefer to eat? If it isn't little girls wearing red hoods, then maybe Rabbit can find out, when he borrows a book about wolves from the library. The book
Wolves
by Emily Gravett is certainly not for the faint hearted! Rabbit is so engrossed in his book that he doesn't realize he is a major part of the story! There is good news for the squeamish: an alternate ending to the story, which I'm sure will bring a huge sigh of relief. This is a witty and entertaining book, probably more suitable to kids ages 5 and up. See also
The Odd Egg
by the same author.
See this book listed in our catalog