Submitted by Ms. Tess!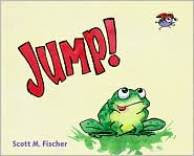 Remember singing "There Was an Old Lady that Swallowed a Fly" when you were a kid? Well, here is a similar story for a new generation:
Jump!
by Scott M. Fischer. In this book, the word "jump" could easily be replaced with the word "chomp," as it begins with a bug – a "snug little bug," "sleeping on a jug," until a frog comes along and… "JUMP!" This continues, until a whale eats a shark, whose eaten a croc, whose eaten a dog, whose eaten a cat, whose eaten a frog (the one we were just talking about), and then spits them all out his blow-hole! Honestly, the whole animals-eating-animals genre is one I think every child should experience. Often, they don't find it quite as scandalous as we grown-ups do, and if they do, it gives you a good chance to chat about the circle of life with your youngster!
See this book listed in our catalog