Submitted by Ms. Tess!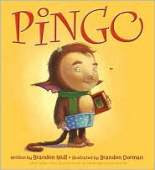 I love to hear people's stories about the imaginary friends they had when they were kids. This probably explains why I love
Pingo
by Brandon Mull, with illustrations by Brandon Dorman. Like many little boys, Chad has an imaginary friend: Pingo, a diminuative, furry, half-dressed, horned, (and adorable) creature, with whom he fights ninja armies, and whips up magic potions (just a few of their many activities). But as Chad gets older, he starts being made fun of for having an imaginary friend. And as he gets even older, he finds he's more interested in girls, or getting his reports done than playing with Pingo. But Pingo never really leaves his side. When Chad is a very old man, and lonely living in rest home, he rediscovers Pingo, and the fun they used to have. They go on more adventures, jet-skiing, to Africa, to counsel with mighty chieftans. If your child is having trouble letting go of their imaginary friend, you might consider reading
Pingo
with them, and reassuring them that they will always have a friend in their imagination.
See this book listed in the catalog