Submitted by Ms. Jill!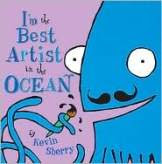 The exuberant giant squid from
I'm the Biggest Thing in the Ocean
is back in
I'm the Best Artist in the Ocean
by Kevin Sherry! This time, he's excited to show us what a great artist he is. In fact, he's The Best Artist In The Ocean! He can draw all kinds of things: fish, crabs, manta rays, sharks… and he's making his masterpiece! But not everyone is happy about Giant Squid's art project–he's splashing ink and paint all over the place. Not to fear–art is still art, even if it's messy. Just wait until you see Giant Squid's gigantic "Mess-terpeice!" Better get the crayons ready! After reading this book, your little ones will be inspired to create masterpieces of their very own.
See this book listed in our catalog