Submitted by Ms. Melissa!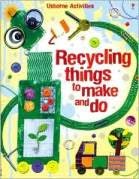 If you are teaching your child about the 3 R's (reduce, reuse and recycle), here's a book you can use to introduce the concept.
Recycling Things to Make and Do
, published by Usbourne books, offers a plethora of activities, both fun and useful, that will entertain your child's creative muse for hours. From robots to flowers;,castles to puppets, children will learn to fashion useful and decorative objects out of items such as recycled papers, buttons, and string. Colorful examples and illustrations will guide the crafter step by step, until their masterpiece is complete!
See this book listed in our catalog