Submitted by Ms. Tammy!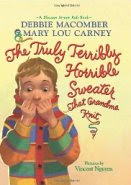 The Truly Terrible Horrible Sweater That Grandma Knit
by Debbie Macomber and Mary Lou Carney. Cameron can't wait to open his birthday present from his grandma Susan. She always gives him the best gifts. But, he finds himself horrified as he pulls a truly horrible sweater, with bright stripes and big buttons, from the box. He spends the next few weeks trying to dispose of the unwanted sweater. First, he pours mustard on it, hoping to get a really bad stain. Then, he puts it on the dog, and tries to send him outside after a heavy rain. Lastly, he hides the sweater in a box of things going to the thrift shop. Cameron is forced to wear the sweater when his grandma shows up for the holidays. After asking if her grandson likes the sweater, Grandma sits with him and explains why she used each one of the colors, and the memory that went with it. He starts to understand how special the sweater is, and how much it means to them both.
See this book listed in our catalog