Submitted by Ms. Jill!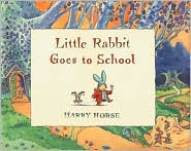 Little Rabbit Goes to School
by Harry Horse. Little Rabbit is so excited about his first day of school! He is a big boy now, with a backpack, and a lunchbox, and he is ready! And Little Rabbit is just sure his favorite toy, Charlie Horse the wooden horse, should go to school with him. "Maybe Charlie Horse should stay home with me," suggests Mama, but Little Rabbit insists. Alas, Charlie Horse gets poor Little Rabbit into all kinds of trouble, from interrupting story time, to making a giant mess during the cooking lesson. But, worst of all, Charlie Horse distracts Little Rabbit so much that he gets lost during a nature walk! Scared and alone, Little Rabbit bravely thinks of a way to summon help. In spite of the trouble Charlie Horse causes, Little Rabbit makes new friends and is eager to come back for his second day of school tomorrow… only without his naughty wooden horse! Look for more Little Rabbit stories in
Little Rabbit Lost
,
Little Rabbit Runaway
,
Little Rabbit's Christmas
, and
Little Rabbit's New Baby
.
See this book listed in our catalog