Submitted by Ms. Catherine!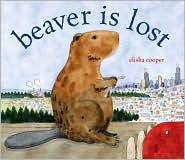 Beaver Is Lost
by Elisha Cooper is a great example of how a wordless book can be a great story for you and your child to share. While you may ask how you would read a wordless book to a child, I believe that wordless books are actually a wonderful tool to help expand your child's vocabulary, cognitive skills, and imagination. In
Beaver Is Lost
, one beaver loses his way and ends up in the city rather than his nice home on the river. Each illustration depicts a different part of his adventure as he tries to find his way home. The soft, watercolor pictures work perfectly with the simple story of an animal trying to get home. When sharing this book with your child, you can take turns describing and discussing what's happening on each page. Beaver experiences many situations that will be recognizable to your child, so this will be a good chance for them to use their imagination and think about what they would do if they were Beaver. And don't worry about poor beaver, he'll find his way home by the end of the book!
See this book listed in our catalog