Submitted by Ms. Sue!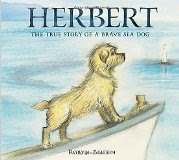 Herbert: The True Story of a Brave Sea Dog
written and illustrated by Robyn Belton. Herbert is a three year old Border Terrier dog, and best friend of twelve year old Tim from New Zealand. They live by the sea. One day Herbert, who is a small dog, went on the adventure of his life! Tim's father took a boat trip with Herbert and some other men to cross the Marlborough Sound. While attempting to cross this tricky body of water, Herbert falls overboard! No one notices for a long time, and finally Tim's dad must tell Tim when they arrive at their destination. A search party is launched at first light, when a fisherman who knows the waters well help to look for Herbert. Tim tells his dad "this will be the worst or the best day of my life." Herbert is finally found after thirty hours of swimming in the sea! This true story of adventure celebrates the love between a boy and his dog. Enjoy the original real story, and pictures of Herbert, also included in this book.
See this book listed in our catalog