Submitted by Ms. Catherine!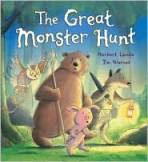 Everyone has, at some point in their lives, heard a monster under their bed, or in their closet. The monster in my room lived under my dresser.
The Great Monster Hunt
by Norbert Landa and Tim Warnes is a sweet and funny story about what happens when you think you hear a monster somewhere in your room. Poor Duck can't sleep because of the "psh psh" sound coming from under his bed. Anyone who has ever heard a sound in their room late at night knows that sometimes it's just too scary to look under the bed themselves, so Duck turns to his friend Pig and tells how something under his bed is making a "psh psh grrr!" sound. As more and more animals hear the story, the monster under the bed becomes more and more terrible! So when the animals are finally ready to take on the scary creature under Duck's bed, they are in for a big (or maybe small) surprise. With fun, bright illustrations, and monster noises you and your child can do together, this will be a great book for any child who has worried about the monsters under their bed.
See this book listed in our catalog