Submitted by Ms. Melissa!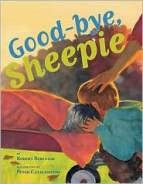 If you have ever loved a dog, you know how hard it is to say good-bye.
Good-bye, Sheepie
by Robert Burleigh is a book which directly discusses that situation. Owen and Sheepie are best buds, but Sheepie is getting old, and is no longer the active pup he once was. One day, Owen finds Sheepie under a big oak tree, and reaches down to pet him. Sheepie doesn't lift his head, or wag his tail. He is gone, and it is time for Owen to say good-bye. Owen's relationship with his father is strong and supportive. Owen and his Dad bury Sheepie, and they mark the grave with rocks in the shape of an "S." Dad explains that Owen won't play fetch with Sheepie anymore, but he will continue to live on in his memory. The pictures, illustrated by Peter Catalanotto, are clear, and enhance the story line, adding more emotion to the story. If you're experiencing a situation such as this, and your child is having a difficultly expressing how they feel, this book may help in opening a dialogue.
See this book listed in our catalog