Submitted by Ms. Catherine!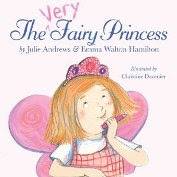 I've always known that I was a fairy princess. So, when Julie Andrews (yes the singing nanny and nun) and Emma Walton Hamilton wrote the book
The Very Fairy Princess
, I knew that it was bound to be amazing. In this cute and funny story, with beautiful pictures by Christine Davenier, we meet Geraldine, a girl who also knows how to be a fairy princess. Geraldine explains how princesses are practical, supportive, and know that pink goes with everything. Little girls and parents will love how Geraldine manages to be a princess and have fun at the same time. After all, scabby knees and dirty fingernails are just part of the job of being a princess. Read
The Very Fairy Princess
and learn how to let your sparkle out!
See this book listed in our catalog