Submitted by Ms. Melissa!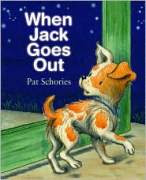 Ever wonder what happens when you put your dog outside? Well, in this story, he gets abducted by aliens! Well, the aliens try, but this faithful pup decides to stay.
When Jack Goes Out
is a wordless picture book by Pat Schories. The pictures tell the story of a dog, his boy, and their devotion to one another. Sadly, it's time for bed, and Jack must go out, so his boy ties him to the dog house to rest for the night. Jack mopes, as any good dog would, at his boy's departure. Suddenly, a car full of aliens flies down, lands on Jack's dog house, unties him, and tries to fly off with him! While amused by the little aliens' shenanigans, Jack does not wish to leave his boy, and sits firmly on the ground. The aliens' space car flies off, taking only Jack's collar with them. When the boy returns to check on his furry friend, he finds him unleashed, and by his dog house, right where he left him. This book has vivid illustrations that clearly depict the scene and characters, and will suit beginning readers as it allows for much discussion and imaginative thinking.
See this book listed in our catolog