Submitted by Ms. Tess!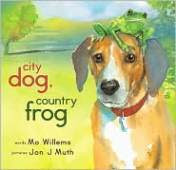 Mo
Willems
is one of our FAVORITE authors here at the Kid's Book Blog, and we were all not-so-patiently awaiting the arrival of his latest book at the library. We were NOT disappointed by its awesomeness.
City Dog, Country Frog
by Mr.
Willems
, illustrated by Jon J.
Muth
, is the heartwarming story of a rambunctious city dog, who meets a wise country frog in the spring. Country Frog teaches City Dog some excellent
froggy
games. In the summer, City Dog returns to teach Country Frog some excellent doggy games. But in the fall, Country Frog is tired, and suggests they play "remember-
ing
" games. In the winter, City Dog searches for Country Frog, but his friend is gone. And when it's spring again, City Dog is sad, but meets a new friend, and life continues on. This book may serve as a gentle way to introduce your little one to the circle of life, and the idea that some animals live longer than others, and how that's natural and ought to be accepted, even if it is a little sad.
See this book listed in our catalog
or
watch a delightful video of Mo talking about this book