Submitted by Ms. Janis!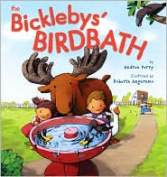 The Bicklebys' Birdbath
by Andrea Perry. Told in a cumulative house-that-Jack-built format, this great read-aloud tells a topsy-turvy story of cause and effect, and it's sure to cause a few giggles along the way. The author creates a rhythmic text with many unexpected twists and turns, and rather than moving the story forward, it moves backward. The Bicklebys' mailman fell right into the Bicklebys' birdbath. The mailman fell into the birdbath because of a small little leak in a garden hose. A moose, a goose, a flock of crows, a bee, a lawnmower, and some other things are also involved in this unpredictable adventure. This story may even inspire young writers to try to write a similar story of their own.
See this book listed in our catalog