Submitted by Ms. Allana!
"The Ugly Duckling" and "Thumbelina" are both stories originally by Hans Christian Andersen. The following are adaptations: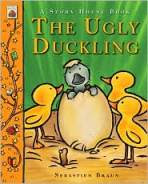 The Ugly Duckling
by Sebastien Braun is a timeless classic retold for a new generation. Braun has captured the essence of this fairy tale using simple language and graphic but bold illustrations. The author of classics such as
I Love My Mommy
and
I Love My Daddy
tells the story of the outcast "duckling" whose egg accidentally lands in the wrong nest setting the tale in motion and sending the "duckling" on a journey of discovery. Revisit this ageless story with a young child–it's worth it.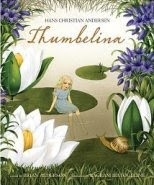 See this book listed in our catalog
Thumbelina
by Brian Alderson, illustrated by Bagram Ibatoulline, is a beautiful version of a fairy tale classic. This book portrays the story of a tiny girl who is thrown into a life of adventure and peril as she seeks out her destiny. Through powerful, eye-catching illustrations, we travel with Thumbelina every step, and flight, from her appearance in the flower petals, to her trip with Mrs. Toad (spectacular on the page!), her scary encounter with the Maybug, and on through her treacherous and sometimes solemn path. Prepare to be surprised and thoroughly entertained with this classic gem.
See this book listed in our catalog