Submitted by Ms. Catherine!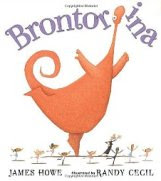 When I was little, I loved pretending to be a ballerina. I also loved pretending to be a dinosaur. However, I never pretended to be a ballet dancing dinosaur. After reading
Brontorina
, written by James Howe and illustrated by Randy Cecil, I realize what I was missing. Brontorina is a dinosaur with a dream – a dream to be a prima ballerina. However, her height, her dinosaur-ness, and her lack of dino-sized ballet shoes make this dream difficult to achieve. But maybe, with the help of friends and teachers who remind her that being different doesn't have to stop you from accomplishing what you want, Brontorina might just become the dancer she dreams to be! Howe and Cecil manage to create a simple story, with delightful textured illustrations, and humor that readers of all ages can appreciate. Check out
Brontorina
and find out why ballet dancing and dinosaurs make an enchanting combination!
See this book listed in our catalog