Submitted by Ms. Tess!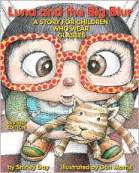 I recently found out that I need to wear glasses. When I went to what I hoped would be a routine vision test (the first I'd had in 10 years, but still, routine) and found out I have "abnormal eye muscle tension" and need prescription lenses to help me focus, I kind of had a mini-panic-attack. Visiting an optician, being told there's something wrong with your eyes, and choosing frames that will be on your face EVERY DAY can be surprisingly overwhelming! And I am a grown up! One can only imagine what the experience is like for a child. If you have a little one who is having trouble adjusting to their new glasses, I suggest reading them the story of
Luna and the Big Blur
by Shirley Day, illustrated by Don Morris. Luna HATES her glasses. She doesn't understand why she needs to wear them, if mom, dad, and baby sister all have perfect eyesight. When she looks in the mirror, glasses are all that she sees. Even when she wears her favorite matching shirt, they just don't look right! One night, Luna has a dream she can see without them, and tries not wearing them the next day, with disastrous results. Finally, a pep talk from dad makes Luna see how special she is, and that glasses aren't so bad after all. The book includes a note to parents about common vision problems among children, and advice on how to help your youngster transition into wearing glasses!
See this book listed in our catalog