Submitted by Ms. Janis!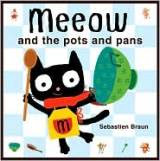 Bang a pot, hit a lid, beat the mixing bowls! Meeow and his friends are cooking up a musical treat in
Meeow and the Pots and Pans
by Sebastien Braun. Meeow and his four animal friends look through all the cupboards for pots, pans, and cooking utensils, to form a band. Each animal removes an item from the cabinet. With a wooden spoon, frying pan, fork, mixing bowls, lids, and measuring cups, the playmates begin to play their instruments. The last page portrays Meeow and friends in band uniforms playing regular instruments, rather than homemade ones. Young readers will feel inspired to grab a spoon and a dish and join right in!
See this book listed in our catalog