Submitted by Ms. Allana!
The following are two books by prolific children's author (and one of St. Mary's County librarians' favorites) Pamela Duncan Edwards: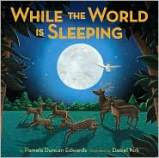 I don't know how many times I said "WOW!" while looking through the gorgeous
While The World Is Sleeping
, illustrated by Daniel Kirk. I probably said "wow" at least once for every page before I even read it. What child wouldn't love this book? It is spectacular! While the poetry is rhythmic and meaningful, the artwork places the book in a superior class. This is the type of book a child will experience, not just be entertained by, or appeased with. Since it is a perfect bedtime story anyway, the child who reads it, or has it read to her or him, will be guaranteed sweet dreams filled with beautiful creatures and wondrous landscapes.
See this book listed in our catalog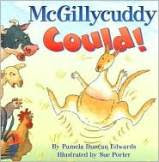 McGillycuddy Could
, illustrated by Sue Porter, is a clever, humorous tale about a creature who comes to a farmyard and simply does not fit in. He can't lay eggs, and he can't give wool or milk, but before he limps off defeated, rejected and alone, an opportunity arises, and affords him the chance to show what he CAN do! You can read this aloud to smaller children, and really become animated, acting out the various traits of each animal as they taunt and try McGillycuddy.
See this book listed in our catalog