Submitted by Ms. Amanda!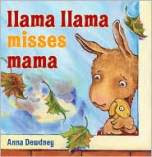 Llama Llama Misses Mama
by Anna Dewdney is a great story for little ones who are nervous about going to school, or having some separation anxiety when school begins. Llama Llama wakes up and gets ready for school with his Mama Llama, and then she drives him to school. When Mama Llama leaves, Llama Llama is nervous about all the new toys, new kids, and his new teacher. Llama Llama doesn't want to play blocks, or train, or look at a book, and he doesn't want to eat either. Llama Llama feels alone, and misses Mama! Then Llama Llama makes friends, and he plays outside–hide and seek, tag, and jump rope. When he and his friends come inside to play, Llama Llama sees Mama Llama! Llama Llama is so glad she came back, and he shows her all of the things he did with his new friends at school. Llama Llama loves his Mama, and school too!
See this book listed in our catalog