Submitted by Ms. Catherine!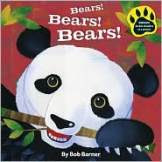 I'm going on a bear hunt! I want to catch some bears! But since there aren't any bears in St. Mary's County, I will hunt for bears at my library!
Bears! Bears! Bears!
by Bob Barner is a great book for any kids who think that bears are the bees' knees. Each page features a different type of bear with beautifully textured illustrations. You can dive with the polar bears, climb with the moon bears, and doze with the black bears. The end of the book features true facts about the eight different species of bear pictured in the book. There is also a map of the world showing you all the places you can go looking for bears! So check out
Bears! Bears Bears!
today and learn about your favorite kind of bear!
See this book listed in our catalog