Submitted by Ms. Sue!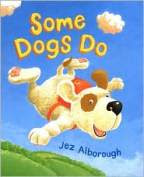 Some Dogs Do
by Jez Alborough. Do dogs fly? They walk, they run, they jump, but dogs don't fly. This is the story of a dog named Sid. One day, on his way to school, Sid was feeling very happy. All of a sudden, his paws just lifted off the ground, and Sid fell up, toward the sky! It was wonderful! When Sid got to school that day he couldn't wait to tell all his friends and his teacher about what had just happened to him. The reaction to Sid's story was not what he was expecting. They didn't believe him. They thought he was making it up. "You're a dog, and dogs don't fly." "But I did," said Sid. "I did…I did." This is a fun and heartwarming tale of one dog's very own miracle, and how sometimes they really do come true!
Some Dogs Do
makes for a nice read aloud book, and the large, colorful, soft illustrations are done in gouache.
See this book listed in our catalog