Submitted by Ms. Carol!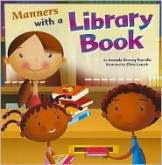 Manners with a Library Book
written by Amanda Doering Tourville, and illustrated by Chris Lensch, is a good book for teaching children how to care for books, particularly library books. It explains that caring for library books is using good manners, and that everyone should use good manners. You should not eat or drink while reading books, and you should always have clean hands before handling library books. The book also discusses how everyone should be careful turning the pages of a book, and always use a bookmark instead of folding the pages. It is important to be responsible and return your books, or renew them on time. There is also a page in the back that has interesting facts about libraries.
Manners with a Library Book
is a great book to read to children who are new to the library to show them how they should take care of library books, but also as a refresher for children who need reminding every now and then.
See this book listed in our catalog