Submitted by Ms. Tess!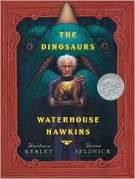 The Dinosaurs of

Waterhouse

Hawkins
is an extraordinary book about an extraordinary figure, Benjamin
Waterhouse
Hawkins. This
Caldecott
honor book (2001) by Barbara
Kerley
, illustrated by (the incomparable) Brian Selznick, tells the remarkable story of Mr. Hawkins, an artist who dared to dream in the 1800's.
Waterhouse
loved to sketch and sculpt animals, and was especially fascinated by dinosaurs. He was asked by Queen Victoria and Prince Albert to create life size dinosaurs for their Crystal Palace. Not much was known about what dinosaurs looked like back then, so
Waterhouse
used as much scientific data as he could find, and his imagination, to create wondrous creatures! He even invited top scientists of the day to have dinner in his cast of the
Iguanodon
! He then traveled to the United States and spent 2 years building dinosaurs to be displayed in New York City, but they were tragically destroyed by vandals (probably in the employ of notorious,villainous, American politician "Boss" Tweed) and buried in Central Park.
Waterhouse
Hawkins would be thrilled to see what we've discovered about dinosaurs since his lifetime, and his legacy lives on, through his dinosaurs, which you can still visit in England, and this book about his life.
See this book listed in our catalog