Submitted by Ms. Allana!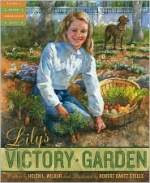 Surprisingly touching and brilliantly told,
Lily's Victory Garden
by Helen L. Wilbur is a story about a family during war time. Young children often struggle with historical fiction, because they don't relate to the past or to the children of a different era. I believe that this book is one of a few really great generation-gap fillers because of the themes of family relationships, the nature of giving, helping each other, and pulling together during hardships, all of which transcend time. The style of illustration by Robert Gantt Steele, a trained architect, is called "portraiture," which works wonderfully with this story. Lily is too young to join the town lottery for a small plot of garden, so she approaches a neighbor who has the largest garden in the area. She discovers that the lady of the house is very sick, and the husband doesn't want to be bothered, but the wife steps in to encourage the project, and the result is very moving. I loved this book, and think it will be enjoyed by many families.
See this book listed in our catalog