Submitted by Ms. Amanda!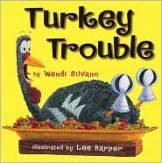 Thanksgiving makes me think of Turkey, but it makes Turkey nervous! In
Turkey Trouble
by Wendi Silvano, Turkey has a big problem! Thanksgiving is approaching, and Farmer Joe is looking for him. Turkey has a great idea to avoid becoming Thanksgiving dinner: he will dress like a horse, because surely Farmer Joe wouldn't eat a horse for Thanksgiving dinner. It turns out that Turkey is too short to be a horse, so he dresses as a cow but he is too thin to be a cow. Next, Turkey dresses as a pig, but he is too clean to be a pig, so he decides to dress as a sheep, but that doesn't work either. Then it hits Turkey… he can disguise himself as a rooster to avoid becoming Thanksgiving dinner! But wait… what if Farmer Joe decides to have Rooster for Thanksgiving when he can't find Turkey? Finally Turkey comes up with his best idea yet: he disguises himself as a pizza delivery man and delivers Farmer Joe a pizza for Thanksgiving dinner! Yum! Pizza for Thanksgiving dinner! This is great story for both kids and adults. The illustrations of each of Turkey's disguises are great!
See this book listed in our catalog