Submitted by Ms. Tess!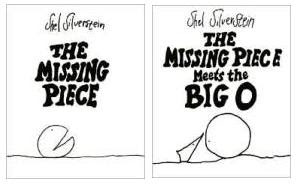 One of my most favorite creators of art and literature for children is Shel Silverstein. And his greatest gifts to us, in my opinion, are his books The Missing Piece and The Missing Piece Meets the Big O. They both send a positive and understated message of self-acceptance and finding peace from within.
The Missing Piece begins "It was missing a piece. And it was not happy." We then proceed to follow "it" as it looks for its missing piece. It rolls along, slowly since it's not complete, singing, and occasionally pausing for a butterfly to land on it. It tries several pieces, until it meets one that fits. Although it is complete, it can no longer sing, and it rolls too fast for butterflies to land. It realizes that it is happy, even though it is flawed, and leaves the missing piece behind, finally at peace with itself. See this book listed in our catalog
In The Missing Piece Meets the Big O we find out what happened to the piece left behind. "The missing piece sat alone…" the book begins. The piece tries to fit in, in various situations. It tries whatever it can–being attractive, being flashy–but the piece just doesn't fit in anywhere. One day the piece meets the Big O. The piece would like to fit in the with Big O, and roll with it, but the Big O is complete, and not missing any pieces. "Perhaps you can roll by yourself" the Big O says. The missing piece is a triangle, not really built for rolling. But it can try, and try it does, and after a while it changes shape, finding it doesn't need to fit with anyone to roll. The piece had what it takes to move on its own all along. See this book listed in our catalog
The Missing Piece and The Missing Piece Meets the Big O are books your child can enjoy now, that will have whole new meanings to them when re-read years later.