Submitted by Ms. Tess!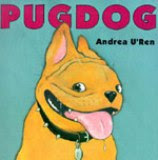 It might be my penchant for wrinkley-faced canines, or this book's wonderful message of tolerance, but I just love
Pugdog
by Andrea U'Ren. Mike doesn't know much about dogs. When he brings home his new best friend, he names the pup Pugdog. Pugdog loves to chase squirrels, dig holes, and play tug-of-war! Pugdog loves to chew on bones and get belly rubs! But one day Mike takes Pugdog to the vet and discovers that Pugdog is female. Mike feels awful. He's been treating Pugdog like a boy this whole time! Desperate to right his mistake, he gives Pugdog some lessons on how to be girly. He takes her to the doggy salon, dresses her in a prissy outfit, and points out a pretty poodle in the park for her to emulate. Pugdog is miserable! She tries hard to be a lady, but her heart just isn't in it. Mike finally realizes that he must love Pugdog for who she is, and let her do "boy stuff" if that's what truly makes her happy.
See this book listed in our catalog