Submitted by Ms. Tammy!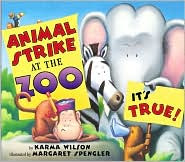 Animal Strike at the Zoo, It's True!
by Karma Wilson. One day, the elephants at the local zoo complain "We're only paid peanuts!" This starts all the other animals talking about how unfair the pay is, and they all decide to go on strike! Soon the monkeys are demanding a pool, and the zebras want root beer floats. The zookeeper works frantically to grant the silly demands of the animals. Just when it appears all hope is lost, a little girl visiting for the first time bursts into tears over the animals not doing their jobs. A hush comes over the zoo and in that moment the animals realize the importance of their jobs, returning the zoo to normal. The brightly colored illustrations of the animals and the rhythmic text quickly make this book a favorite.
See this book listed in our catalog