Submitted by Ms. Tess!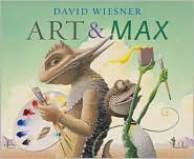 Check out the latest from three-time Caldecott winner David Wiesner,
Art & Max
. On the surface, a story of two rambunctious lizards,
Art & Max
is really a book about the power and possibility of art. Arthur (Art for short) is an experienced painter, painting the finest of portraits. Max is a total beginner. Max wants to paint! What should he paint? Art suggests Max paint him. Max takes this literally, and slathers Art in color! What happens next is a somewhat bizarre, but creative, adventure, leading us to question: Is art still "art" when it's abstract? When it's "just" a drawing? Can art really be defined as one thing or another? And should it be? A soothing desert palette serves as a background to Art's Pollock-esque transformation, and a differentiation in font designates a dialogue between our two title characters.
Art & Max
is truly a wonder to behold.
See this book listed in our catalog