Submitted by Ms. Tess!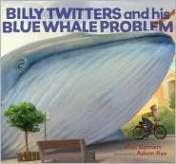 You know you're in for a smarter-than-the-average children's book as soon as you crack the cover
Billy Twitters and his Blue Whale Problem
by Mac Barnett, with pictures by Adam Rex (what with end-papers displaying old-fashioned looking ads for items such as "Real Ink from Real Octopuses," and snarky author/illustrator dedications such as "dedicate another book to my wife? Like she still notices"). Billy Twitters is quite the disobedient child. His parents threaten to punish him, by buying him a blue whale, but Billy isn't too worried. It's not like you can just get a blue whale delivered to your house. Or can you… It's turns out you can (in this story), and Billy becomes responsible for his own whale, which causes him several problems: His teacher, so inspired by the whale, chooses to lecture on whales instead of showing a promised cowboy movie in class, he's uninvited to Alexis's (the girl whose hair smells like tangerines) pool party, and he's picked on by the school's biggest bully AND biggest nerd! Billy eventually realizes having a whale isn't so bad in this surreal story that boys will probably especially love.
See this book listed in our catalog