Submitted by Ms. Tess!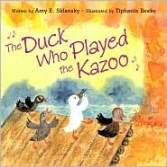 Get out your kazoo and play along with
The Duck Who Played the Kazoo
by Amy E. Sklansky, with pictures by Tiphanie Beeke! Meet a white duck who loves to paddle around his beautiful lake and play his shiny kazoo. But he's awfully lonely since a hurricane blew through, so he says goodbye to his lake, and sets off in search of a new home. He flies south until he finds a river filled with brown ducks. He plays them a tune on the kazoo, and they become fast friends! They have great fun paddling up and down the river, but when the seasons start to change again, our hero thinks of the lake he left behind. He asks his new friends to fly there with him and they all agree! The duck is no longer alone! Your child will hopefully enjoy the poetic rhyme and cadence of this story, and the repeating "zu zu" refrain of the duck's kazoo!
See this book listed in our catalog