Submitted by Ms. Janis!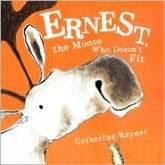 Ernest, the Moose Who Doesn't Fit
by Catherine Rayner. Ernest is a big moose with a big problem. He is so big he can't fit inside the book that is written about him! Ernest has a little friend, a chipmunk, that helps him with this problem. With some tape, odd bits of paper, and plenty of enthusiasm, the two make an enormous fold in the page so that Ernest can fit in at the end of the book! This is a great book for seeing possible solutions to a problem, and never giving up–great for beginning problem solving. This book is simple enough to appeal to very young children, and the illustrations are priceless.
See this book listed in our catalog