Submitted by Ms. Melissa!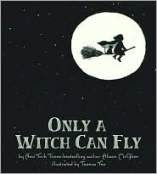 Only a Witch Can Fly
by Alison McGhee, illustrated by Taeeun Yoo, is an enchanting tale of a girl's longing to fly. Written in rhyme, using an ancient method called "sestina," the book flows with a relaxing, lullaby-like quality. The images are created using linoleum cut print, which result in detailed images with few colors. The greens, browns, and black reflect the "Halloween" theme, and help to set the mood: a chilly night with a full moon. This is not a scary read, nor is it something too "childish" to read to an older child. This book has a point, reminiscent of the many "I think I can" books, that uplift and inspire children to try, try again if ever they should fail. Throughout the book you will find words in italics. These words are usually an action and could be read in various ways. You could whisper them, or create a motion to go along with them to add diversity to your story telling.
See this book listed in our catalog