Submitted by Ms. Sue!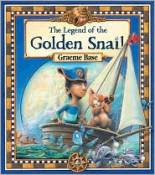 The Legend of the Golden Snail
by Graeme Base. "Sailing Ship, rise and shine, Hoist your sails and trim them fine, Taste once more the salty brine, for with this spell I make you mine!" That was the enchanted spell cast on the Golden Snail in Wilbur's favorite book
The Legend of the Golden Snail
. Wilbur decides to find the Golden Snail, where it was banished to the ends of the earth by the Enchanter, and where it will remain until a new master comes to claim it. So, he sets out on a magical voyage where he comes upon a bush of blossoming butterflies. He could have just gone on his way, but they seemed so hot and thirsty… Wilbur comes across many such things, and strange creatures, on his way where he, the new Grand Enchanter, considers how to help and what to do. What challenges lie ahead on this daring voyage? Find out if Wilbur makes it to the ends of the earth and finds the golden snail, or if what he finds is what he imagined it would be.
See this book listed in our cataog