Submitted by Ms. Allana!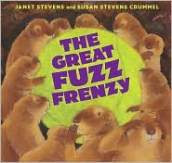 The Great Fuzz Frenzy
by Janet Stevens and Susan Stevens Crummel, illustrated by Janet Stevens, begins as soon as you open the book. No, not the first page, where you would normally start reading from, but the very FIRST page, before the title. A big dog romps around with a fuzzy yellow tennis ball, and he encounters a prairie dog peeping out of his hole. No introduction necessary–the illustrations introduce you to the storyline and characters. Turn the book sideways to read, and see where a very important part of the story takes place: underground. The prairie dogs have no idea what the mysterious object is that has arrived in their midst. They don't know how to react until a small piece sticks to Pip's claw. Now they all want a piece! There seems to be enough "fuzz" for everyone to play with or dress up in. There's even enough to share with neighboring prairie dogs. When it all begins to get out of control, and a real frenzy ensues, it becomes a near disaster, and someone has to restore order to the burrow. This is a fun and entertaining frenzy for pre-school age children. It has elements of mystery, humor, plus a little drama and danger as the conflict is resolved.
See this book listed in our catalog