Submitted by Ms. Tess!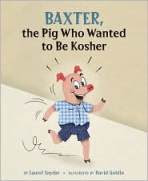 Baxter, the Pig Who Wanted to Be Kosher
by Laurel Snyder, illustrated by David Goldin, has got me all "verklempt." I found it utterly heart-warming and humorous! The book opens with Baxter, a pig, who (for whatever reason) is hanging out in his local predominantly Jewish neighborhood. He's sitting on a bench next to a man who says he can't wait for sundown, because it's Shabbat, and his family will light candles, sing, and have a special dinner. Baxter thinks this this a great idea! He wants to be a part of Shabbat! The celebration, that is, not the meal. However, he is misunderstood, and every nice Jewish person he talks to informs him he simply cannot be a part of Shabbat because pigs are not kosher. Baxter wonders if eating lots of kosher pickles, or challah bread, will make him kosher, but that just makes him kind of smelly, and incredibly full! Eventually, he meets a kind rabbi, who understands Baxter's desire to be part of Shabbat, and explains, luckily for the pig, that everyone is welcome at Shabbat! In fact, it's a mitzvah to invite strangers to dinner! Baxter finally gets to be a part of Shabbat, and he is so happy. The book includes a friendly author's note, and a glossary of Jewish terms (like Shabbat, kosher, rabbi, and mitzvah).
See this book listed in our catalog