Submitted by Ms. Janis!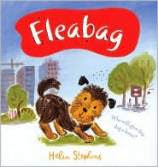 Fleabag
by Helen Stephens is a story told from a dog's point of view. Fleabag is a cute dog, but very lonesome. He sees all the dogs come to the park with people who "take them for walks." He wants his own person too, but everyone who sees him tells him he is just a dirty fleabag. One day he makes friends with a boy and his whole life changes. Through some sadness, fear, and rejection they end up together in an amazing animal rescue story! The author addresses many emotions in this story, and presents them in a way that is acceptable to young children. This is a book that celebrates the love that can exist between a dog and his boy.
Fleabag
is truly a great story about love, acceptance, family, and fleas!
See this book listed in our catalog