Submitted by Ms. Catherine!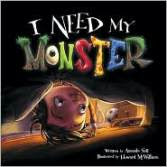 When I was little, I was terrified of monsters living under my bed. So, I made a monster trap, so that I could catch the monsters and keep an eye on them. That's the thing about monsters in bedrooms. As long as you and your monster come to an understanding, everything will be okay. In
I Need My Monster
, written by Amanda Noll, and illustrated by Howard
McWillams
, the monster who lives under Ethan's bed, Gabe, takes a vacation. Poor Ethan is left dealing with substitute monsters, who simply do not live up to the greatness of Gabe. One after another, the monsters show up. But monsters with painted fingernails,
slurpy
long tongues, and bows on their tails are just not scary enough to keep Ethan in bed! If the monsters can't keep Ethan in bed, how will he ever get to sleep? Don't worry–Gabe and Ethan are reunited in the end. Ethan is finally able to get some sleep, and Gabe is happily growling and drooling green goo the whole night through. If your child is worried about the monster under his or her bed, this book is a great to help them not feel afraid. And if they're still afraid, a well placed monster trap (a shoe box with a hole cut in the side) set by their bed will capture any scary monsters that might be lurking underneath.
See this book listed in our catalog