Submitted by Ms. Allana!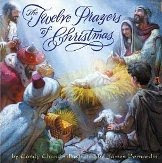 The Twelve Prayers Of Christmas
by Candy Chand, illustrated by James Bernardin, presents the Christmas story in beautiful verse and illustration. Each page features a prayer from a witness to the birth of baby Jesus. From Mary, to the donkey she rode on, Joseph, an angel, the wise men, and finally baby Jesus. This book is a nice change from "The Night Before Christmas," but of course could be read in addition to the old favorite classic. It's a lovely book for families to share on Christmas Eve or any time around the Christmas season.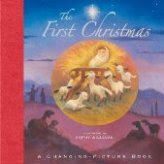 See this book listed in our catalog
The First Christmas
illustrated by Sophy Williams (a changing-picture book) is a wonderful version of the Christmas story. It's simply told, but features changing picture panels on every other page to make it even more interesting and special. The images of all the key characters are charming, but when you slide the last panel and see Mary and Joseph with the baby Jesus, it really shines.
See this book listed in our catalog