Submitted by Ms. Tess!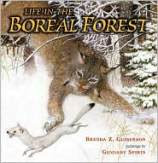 Life in the Boreal Forest
by Brenda Z. Guiberson, illustrated by Gennady Spirin, provides a glimpse into the world's largest freshwater ecosystem. The boreal forest makes up a third of the earth's total forest area, and yet few people know very much about it, or how desperately in need of protection it is. The boreal forest is home to more than 200 species of birds, including 90% of Tennessee and Connecticut warblers, and the last few hundred whooping cranes fighting extinction. It is also home to bears, beavers, lynxes, hares, moose, and caribou. Hear the "Aoohooooo!" of hungry wolves, and the "Whoom, whoosh!" of a sledder on a toboggan, as you learn about this amazing wild land and the creatures that live there. After the book, have a conversation with your child about what you can do to help save the boreal forest.
See this book listed in our catalog