Submitted by Ms. Tess!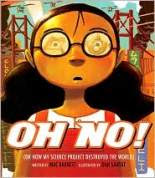 From the brilliant minds of Mac Barnett (author of
Billy Twitters and his Blue Whale Problem
), and Dan Santat (illustrator of
Chicken Dance
), BEHOLD the fantastic, Godzilla-inspired
Oh No! Or How My Science Project Destroyed the World
. The story begins with a young girl lamenting "Oh no… Oh man… I knew it. I never should have built a robot for the science fair." For said robot is currently rampaging through the streets! She made other mistakes as well. For instance, she should have never given it a superclaw, or the ability to control dogs' minds. She should have given it ears so that it'd hear her when she screams "Hey, robot! Knock it off already!" She finally finds a way to stop her creation. Of course, maybe she shouldn't have enginineered a biologically enhanced giant frog to do it… Laugh along with the possibilities of, and cultural references abound in,
Oh No!
See this book listed in our catalog