Submitted by Ms. Jill!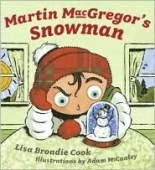 Martin MacGregor's Snowman
by Lisa Cook. Martin MacGregor lives to build snowmen. Last year, be built the biggest snowman in the neighborhood! But this winter, day after unseasonably warm day passes without snow. Month by month, snowman-crazed Martin hatches more and more wild plans: turn his little sister into a snow-baby with flour! Make a snow-dog by covering the family pooch with cotton balls! What about a marshmallow snowman? A shaving-cream snowman? A mashed-potato snowman? But Martin's efforts just land him in bigger and bigger trouble. By April, he's given up all hope of a snowman. But wait! Can a freak springtime storm finally grant Martin's snowy wish? Kids who live for snow will love this book. Adam McCauley's ink-and-watercolor pictures are priceless, revealing Martin's obsessive zeal for snow, and his comical disappointment after each failed plan.
See this book listed in our catalog