Submitted by Ms. Tess!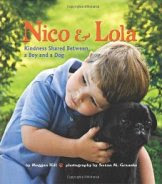 You may have noticed I am partial to dog stories, particularly stories about dogs that are "so ugly they're cute." Perhaps that's why I'm so smitten with
Nico & Lola: Kindness Shared Between a Boy and a Dog
by Meggan Hill with photography by Susan M. Graunke. This is a book about being nice, doing the right thing, and having good manners, told through the story of a little boy named Nico who must figure out how to care for his aunt's pug Lola, whom he is responsible for, for the weekend. From looking after Lola, Nico learns that being kind is, among other things, showing concern for others, taking turns, helping others in need, giving from the heart, and, ultimately, treating others the way you want to be treated. These lessons are taught with thoughtful, kid-friendly text, and adorable color photographs. This book would be wonderful for the young dog-lover in your life, or anyone who needs a refresher on appropriate ways to show loving kindness.
See this book listed in our catalog