Submitted by Ms. Tammy!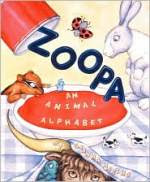 Zoopa: An Animal Alphabet
by Gianna Marino. A bowl of tomato soup becomes much more, as letters of the alphabet start to appear in the soup, along with animals that start with each letter. As you turn to the first page, the first two letters of the alphabet appear, A and B, along with an ant and a butterfly. Children will be excited as they turn each page to discover what new letters have been added to the soup and what new animals have appeared on the two page spread. What a wonderful way to learn your alphabet and discover some familiar, and perhaps unfamiliar, animals, like the quail, xenops, and even a yak! Not to worry–if you get stuck on a letter, you can turn to the final pages, where each animal appears with the first letter in bold print to help identify which of the animals goes with each letter.
See this book listed in our catalog