Submitted by Ms. Tess!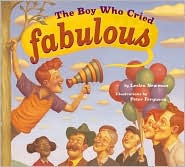 The Boy Who Cried Fabulous
by
Leslea
Newman, with illustrations by Peter Ferguson, is, as its title indicates, quite fabulous. It's about a boy named Roger, who is very enthusiastic about nearly everything he sees. "What a fabulous dog, what a fabulous cat. What a fabulous this, what a fabulous that. What a fabulous boy, what a fabulous girl. What a fabulous day, what a fabulous world!" he exclaims with delight! But sadly, noting each and every thing that he finds fabulous makes Roger late to school, and then late coming home. Roger's parents decide something must be done. No more "fabulous." Perhaps, if they ban the word, Roger can walk through town without being distracted. But, of course, Roger can't hold in his amazement at all the everyday miracles he encounters: everything is "marvelous," or "dazzling," or "glorious," or "brilliant." Luckily, Roger's parents realize that Roger is just a happy child, and "the world's most fabulous son!" If there's an eternal optimist in your home, I'm sure you'll appreciate
The Boy Who Cried Fabulous
too.
See this book listed in our catalog